History of our Allotment Garden
The site has been used for allotments for over 100 years
In 1915, East Grinstead Urban District Council bought 6.049 acres of land for use as allotment gardens from Miss Cordelia Isabella Marriott of 5 Argyle Terrace, Plymouth and others.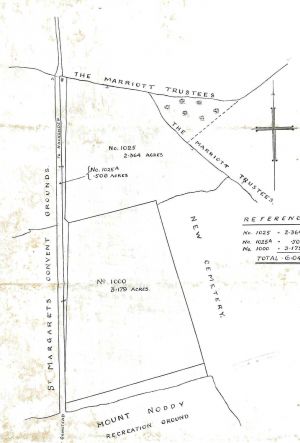 The land was sold with restrictive covenants that run with the land to the effect that it should never be used for any purpose other than allotment gardens, recreation ground, public park, or open space but the purchasers or assigns could erect a caretaker's house, pavilions, bandstands, huts and other buildings usually erected on similar properties of a similar nature.
Who was Cordelia Marriott and what was her link to East Grinstead?

Cordelia Isabella Marriott was born in 1866 to Rev. George Herbert Marriott and Cordelia Isabella Paterson. Cordelia Paterson was the daughter of Rev. Charles John Paterson, Vicar of West Hoathly Church, and Cordelia Cranston, third daughter of Edward Cranston of East Court.
The house at East Court was built in 1769 by John Cranston. He was married to Catherine Green, who inherited the nearby farm known as Estcots, and it was on this farmland that East Court was constructed. At the time, the legal status of coverture applied and, upon marriage, a woman's legal rights and responsibilities became those of her husband.
When John Cranston died in 1781 his only son, Edward, inherited East Court. Edward Cranston had five daughters and when he died in 1841 his will made provisions to ensure that the estate was not lost due to his daughters marriages. The will directed that a lifetime trust be created to give financial security to his wife, Harriet, who lived at East Court for a further twenty years. It also directed that trusts be set up so that each of his daughters received an equal one-fifth share of the incomes from Edward Cranston's personal and real estates. If a daughter married and predeceased her husband, the husband would continue to receive the income but not the assets. Any children could inherit a share of their mother's income provided they reached twenty-one years of age or, if a daughter under the age of twenty-one, she married with her parents or guardians permission.
Daughters, Harriet and Emma did not marry and Mary married but had no children. Caroline married and had six children, Cordelia had one child of whom Cordelia Isabella Marriott was the sole descendant.
There are memorials in St Swithun's Church to John and Caroline Cranston, Edward and Harriet Cranston, Harriet Catherine Cranston, Emma Cranston and Mary Hastie nee Cranston.
Edward Cranston's will allowed the Trustees to sell and purchase assets with the written consent of the entitled beneficiaries. East Court was advertised for sale in The Times in 1904 as a choice freehold residential and sporting estate with great potential for development. It comprised a stately mansion with appurtenances, a smaller residence and grounds, extensive woods, two farmhouses and a large area of farmland (mostly pasture). In all about 522 acres.
By 1915, East Court had been sold and the Trustees were Rev. George Herbert Marriott, his brother Rev. Randolph Charles Marriott and Arthur Hepburn Hastie, solicitor and grandson of one of the original Trustees. They sold the land for the allotments with the consent of Cordelia Marriott who was entitled to the largest sum from the sale.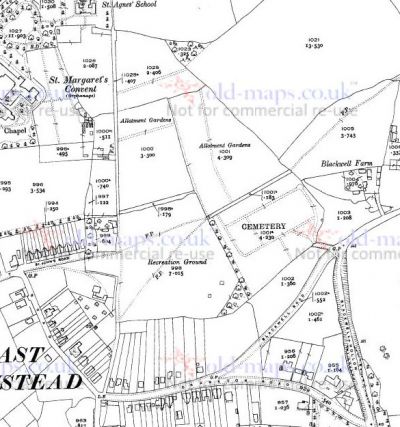 East Grinstead Urban District Council purchased land for a new cemetery at Mount Noddy to replace the Queens Road cemetery. As burials started there in 1916, this land appears to have been acquired about the same time as the allotment gardens.
The Ordnance Survey map of 1931 shows over half of the Mount Noddy cemetery land being used as allotment gardens. This continued until around 1980 when these particular allotments had to be vacated and the site was redeveloped for housing, becoming Badgers Way. Some of the current members of the MNAA used to cultivate plots there.
In 1993, East Grinstead Town Council handed management of the site to the Mount Noddy Allotment Association under a 21 year lease. In 2015, the lease was renewed for a further period of 10 years.

Further information about the Cranston and related families may be found in www.ancestry.co.uk under Family Trees, "East Court"
Mount Noddy. Research into the origin of the name by M J Leppard.